#KITABANTUKITA Campaign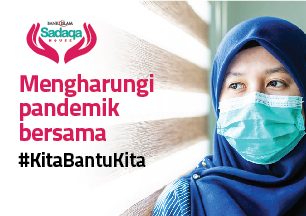 The #KITABANTUKITA campaign to begin from 25 November 2020 and ends 31 January 2021 to assist impacted group by COVID-19 pandemic with the fund contributed by the public ("the Campaign").
The Campaign will use Sadaqa House as a crowdfunding platform to receive donations from the public through various channels of transfer to Sadaqa House account (A/c No:140 140 101 88888 Bank Islam Malaysia Berhad).
Donations received with the specific remark #KITABANTUKITA will be used for the Campaign.
The Campaign uses 1:1 matching basis where RM1 matching for every RM1 donation received taken from the Sadaqa House fund (to the maximum of RM500,000)

How to contribute:

Fund Transfer
Sadaqa House
140 140 101 88888
(Bank Islam Malaysia Berhad)
Note : Insert 'KitaBantuKita' at Recipient Reference area
Visit https://www.sadaqahouse.com.my (click Donate button on KitaBantuKita project)
Bank Islam Credit Card-i holder
Contribute by redeem your Trupoints at https://trurewards.bankislam.com.my
(Product category : Charity. Choose General Fund)