"My Dream Home" Campaign for Baiti Home Financing-i and Wahdah Home Refinancing-i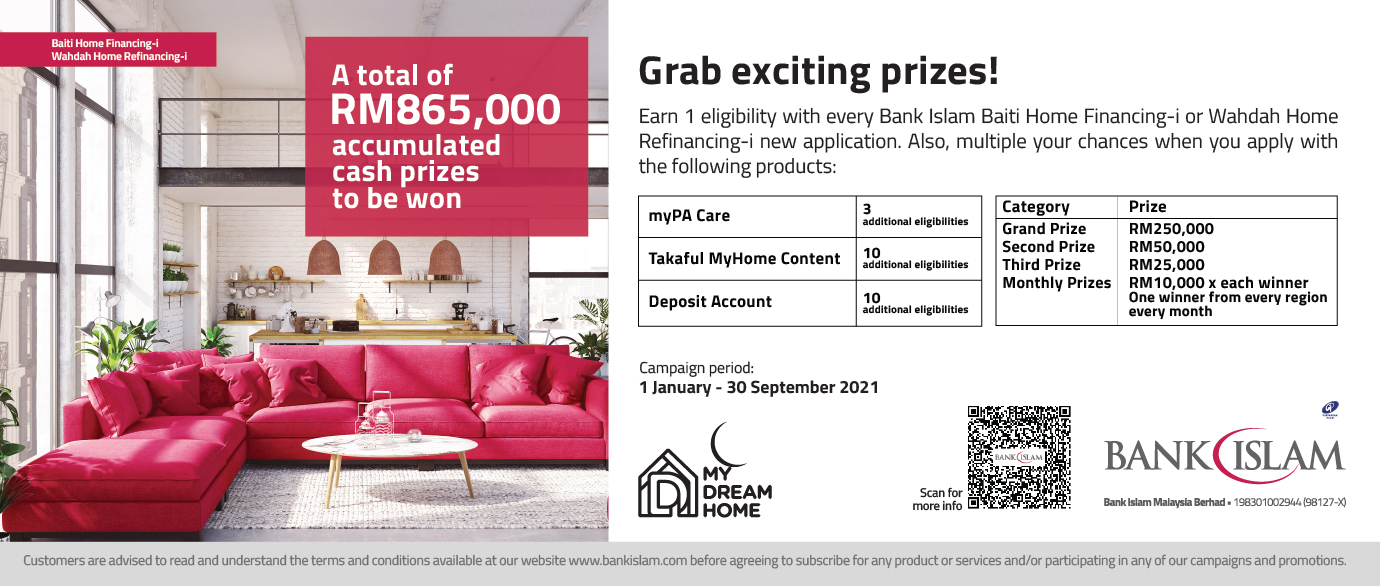 Apply now
Calculator
or contact our Call Center at 03-26 900 900.
---
CAMPAIGN PERIOD
1 January 2021- 30 September 2021
---
ELIGIBILITY CRITERIA
To be eligible, customer must meet the following criteria:
New Baiti Home Financing-i or Wahdah Home Refinancing-i application with minimum financing amount of RM200,000;
The financing or refinancing application must be Applied, Approved and Accepted during the Campaign Period;
Customer subscribe to MRTT/MLTT and ;
Customer subscribe to HOT (where required by Bank Islam)
Customer will be disqualified if the Baiti Home Financing-i or Wahdah Home Refinancing-i facility is terminated or cancelled for whatever reasons during the Campaign Period or prior to first disbursement of the financing amount, whichever is later.
Employees of Bank Islam and their immediate families (spouses, parents and children) or its advertising agencies are not eligible to participate in this Campaign.
---
FEATURES
Financing tenure of up to 35 years or age 70 whichever is earlier
To purchase of property under construction / completed house
Refinancing only completed property
Margin of Financing Up to 90% excluding:–

Mortgage Reducing Term Takaful (MRTT) / Mortgage Level Term Takaful (MLTT)
Houseowner/Householder Takaful Plan (HOT) – (if applicable)
Stamp Duty
Legal Fees
Valuation Fees
---
ATTRACTIVE DEALS
No lock in period
No compounding elements
No processing fees
---
WINNERS AND PRIZES
There will be a total of 57 Winners and each Winner entitle as follows:-

Draw

Number of Winner

Prizes

Monthly Draw

(6 winners every month)

54
RM 10,000 /winner

Grand Prize Winner

3 winners at the end of campaign period

1

1

1

RM 250,000

RM 50,000

RM 25,000
CAMPAIGN MECHANIC
Customer can only win one (1) prize throughout the Campaign Period.
Winners will be selected from a random draw process based on the Eligibility Unit (EU) by using Bank Islam Generic Draw Engine.
EU is assigned to each customer who fulfilled eligibility criteria above for new Baiti Home Financing-i or Wahdah Home Refinancing-i as follows:

| Application | Eligible Unit (EU) |
| --- | --- |
| Each NEW application | Eligible for 1 EU |
| With myPA Care | Eligible for 3 additional EUs |
| With Takaful MyHome Content | Eligible for 10 additional EUs |
| With Deposit Account | Eligible for 10 additional EUs |

Cash prizes will be awarded to the winners within 30 working days from the date of Bank Islam's announcement. Winners will be notified by the Bank either by telephone calls or in writing. The winners list will also be posted on Bank Islam's website www.bankislam.com and/or selective major newspapers.
The monthly prize draw will be conducted and announced from February 2021 until October 2021. The Grand Prize winner will be announced in October 2021.
The prize does not include any accessories or items shown in any advertisement and/or promotional materials as they are for illustrative purpose only.
Click here for Terms and Conditions