Careers
---
---
Bank Islam Malaysia Berhad aims to play a meaningful role in fostering economic development and social progress in Malaysia. Employing over 4,000 people, Bank Islam hopes to contribute in the development of knowledge and expertise in Islamic banking and finance in Malaysia.
A career with Bank Islam Malaysia Berhad is not only an opportunity to work with the Banking industry but also with an organisation that is totally committed to develop the country's Islamic Banking, as one of the most advanced Islamic Banking system in the world.
While Bank Islam continues to grow at a rapid pace, we understand the need to have a professional and talented team. When it comes to developing your career, Bank Islam offers excellent career paths, opportunities and attractive remuneration packages.
Interested to join the team? Please email us your updated resume to career@bankislam.com.my.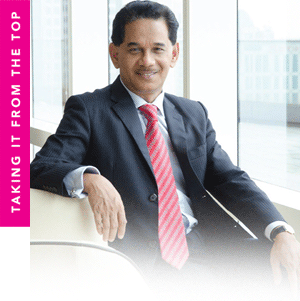 ---
THE BANKER

Dato's Sri Zukri Samat has taken banking to a whole new level. GRADUAN(R) speaks to him about the secret of his success. by Lauren Ling
---
He has always had his heart set on banking as a career, and Dato' Sri Zukri Samat started his path straight out of university with Bank Bumiputra Malaysia Berhad. Now the Managing Director of Bank Islam Malaysia Berhad, he charted a steady course in various positions with many notable banks over the years – Public Bank Berhad, CIMB, Credit Agricole, and Pengurusan Danaharta Nasional Berhad.
It was that final stint that gave him his big break. "Danaharta was a debt resolution agency set up as a preemptive measure by the government to avert a failure in the banking system during the 1997/1998 Asian Financial crisis. It was a critical component to the national agenda in managing the crisis to ensure Malaysia was out of the woods. Danaharta acquired approximately RM58 billion of non-performing loans from the banking system. In 2005, we managed to close the book with 58 per cent recovery rate. (The initial cost estimate by IMF for financial institution clean-up was 18 per cent of GDP but our actual cost was only three per cent of GDP). World Bank acknowledged our efforts and documented our achievements in their periodical issue that year. As the last MD managing a finite organisation, Danaharta has indeed provided me with an invaluable experience," he says with pride.
Cutting his teeth on such an important achievement, he was ready when Bank Islam came knocking on his door. This new role came with its own set of challenges. "Although the challenges were confined to the Bank itself i.e. due to heavy losses incured in 2005 and 2006 arising from non-performing financing, failure in handling it would have posed a systemic risk to the banking system in general and Islamic banking in particular. I would say that this was one of my lifetime achievements as we managed to avoid a bank run. At that point, crisis management required a lot of endurance on my part to cater for the long, strenuous stakeholders' engagements and relentless tactical communications. Alhamdulillah, we managed to make a remarkable turnaround and steer the bank back to profitability in just 12 months," he says.
---
"In life, there is no shortcut to success. The old adage still applies – if something is too good to be true, then it probably is."
---
To him, hard work is the key to a successful career. His advice to those who want to succeed is to continuously seek knowledge and to not let mistakes prevent one from moving forward. "Challenge yourself or you will never know your potential. I am a strong advocator of thinking out of the box, and I believe that one must always keep an open mind to new ideas to stay ahead of the game. Be a team player. Be street smart. Sometimes it takes more than what is in the books to succeed," he says.
In hindsight, it may seem like all was planned for this determined man. However, he never received any guidance on his career of choice, having come from a humble background. He found his first banking job in the most straightforward way possible, through a job advertisement in a newspaper! He accounts it a little to fate, a lot to faith, and a degree of serendipity. "Looking back, with everything falling into place, my career path appears to be like the perfect jigsaw puzzle, destined by fate.
When I entered the banking industry, it was necessary to acquire the skills and knowledge of all things related to banking. Moving positions (and banks) was therefore imperative for me to become competent. The experience I gained in CIMB was different from that of Public Bank, yet they complement each other," he says.
Two of his most challenging jobs were Danaharta and Bank Islam. "Nothing comes easy in this world. To reach the top, we are bound to face headwinds along the way. The difficult journey I went through with these two organisations has shaped my beliefs and leadership style. One of the hardest things to do would be managing people and particularly overcoming resistance from the organisation. When i first took over the helm of Bank Islam, it used to run very much like a public sector company despite being in the private sector. So one can only imagine how tough it was to change the mindset and culture of the organisation. Communication became the most fundamental factor in getting the message across".
"One of the things I picked up as a leader is the power to influence. And to do that, I need to 'walk the talk', supporting what I say, not just with words, but also through action or evidence. For instance, when I joined Bank Islam, we were very careful in managing costs because it was going through a difficult period. When we had to travel, I did not mind taking the low cost carrier as the mode of transportation. After all, it is important to practise what you preach if you want to be taken seriously," he says.
He attributes much of his success to his family, whom he calls his pillar of strength. He is a family man at heart. Whenever time permits, he'll take time off to spend with his loved ones. He also has many close friends whom he trusts and confides in.
---
"Be a team player. Be street smart. Sometimes it takes more than what is in the books to succeed."
---
"In life, there is no shortcut to success. The old adage still applies – if something is too good to be true, then it probably is. What I am saying is we must be willing to strive for what we want and work hard for it. After all, success is sweeter after going through struggles and defeats. Have the courage to stand up and speak your mind," he says.
For his legacy, he wants Bank Islam to be a bank everyone can be proud of. "I want Bank Islam's strong brand equity and franchise value to reach greater heights in the future. I also hope that it will institutionalise some of my credit experience and decision-making process to ease future leaders in determining final decisions," he concludes.
"One of the women said: "O my father, hire him. Indeed, the best one you can hire is the strong and the trustworthy." – Surah al-Qasas (28:26)
---
FOCUS ON OPTIMISING HUMAN RESOURCE
The Bank is focused on its objective to be an Employer of Choice. The Human Resources division is committed to optimising the Bank's resources through a strategy that encompasses all stages of an individual's employment life-cycle with the Bank; through an excellent recruitment process, systematic talent development programme, structured talent management approach, a dynamic performance management structure, excellent working environment and constant engagement with the Bank's employees to understand their needs. Bank Islam's strategy towards becoming an Employer of Choice focuses on the following tenets:
---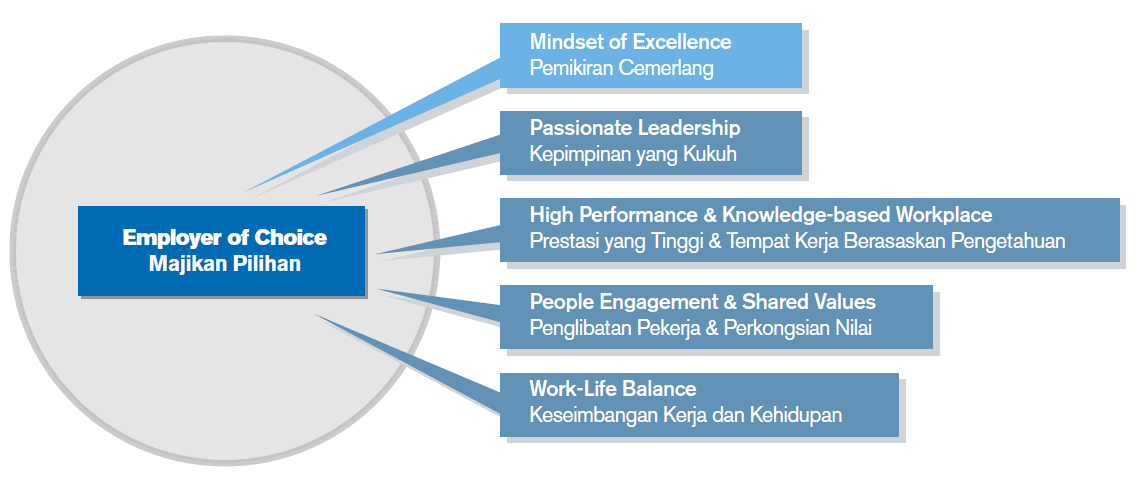 ---
The Bank's positioning as Employer of Choice is underscored by the recognition as one of the top 10 employers in the Banking and Financial Institutions category in Malaysia's 100 Leading Graduate Employers list. Overall, the results of the survey ranks the Bank at number 51 on the list that includes international and national respondents.
---
TALENT MANAGEMENT & DEVELOPMENT
In focusing on optimising human resource to augment Bank Islam's business performance, the Human Resources division's talent development programmes encompass every employee of the Bank, from clerical to managerial positions. The programmes are structured to enrich every employee's leadership, technical and functional skills as well as competency levels to ensure that they are equipped with appropriate knowledge and skills to support the Bank's strategic goals. During the period under review, an investment of RM8.9 million has been deployed to develop talents with the aim of inculcating a high performance culture, greater productivity and better customer relationship. 'Growing Our Own Timber' continues to be on the agenda as the Bank focuses on maximising its human capital and creating a self-sustaining resource of leaders that are able to drive the Islamic industry forward. This led to the Succession Planning effort that prioritises the sustainability of Bank Islam's line of leadership thus ensuring the continuity of effective decision-making. Effective service to the customers begins with a Personality Profiling Inventory utilising Cubiks on-line assessment to assess our managers and to narrow the gap between critical leadership positions and shortfall of successors. Identified successors are provided optimum opportunities to enhance their leadership skills through enrolment in leadership developmental programmes by INSEAD and ICLIF, in addition to in-house training programmes such as the Shariah Banking Development Programme ("SBDP"), Banking Service Manager Development Programme ("BSMDP") and AIF Micro-finance Leadership Programme. To maintain the Bank's reputation as the pioneer and innovator, the Human Resources division has also continued with the fast-tracked Young Leaders Programme ("YLP") and Financial Sector Talent Enrichment Programme ("FSTEP"). As of FYE13, 12 YLP's and 68 FSTEP graduates have been integrated into the Bank's workforce. The 'Upward Mobility Scheme' is an initiative that develops the potential of clerical and non-clerical staff to optimise their opportunities and develop their potential as a way forward for their career growth with the Bank. The desired result is that they are motivated and can look forward to promotions and career progression.
The division is continuing to establish strategic partnerships with recognised training providers such as INSEAD, ICLIF, Malaysian Institute of Management ("MIM"), Institute of Bankers Malaysia ("IBBM") & Islamic Banking and Finance Institute Malaysia ("IBFIM"). These partnerships contribute to enhance the standards of talent development programmes to ensure that the Bank optimises opportunities for its people to grow with its business and ensure satisfactory deliverables. During the period under review, a total of 10,865 attendees – comprising Bank Islam's employees and non-employees, had participated in various training programmes organised by the Bank.
---
MANAGING PERFORMANCE
Bank Islam encourages its employees to optimise their opportunities by performing at their best through a dynamic, fair and transparent performance management evaluation process that keeps them motivated, productive and positive. Bank Islam's refined Performance Management and Development ("PMD") system is a robust self-sustaining strategy that provides the Bank with a larger resource of leaders. The PMD system aligns the Bank's employees' goals, skills and behaviour to its strategic objectives and core values. This new system discerns an employee's performance and provides them with opportunities to hold regular discussions with their superior on their performance and personal development plans. The Bank continues to reward employees who have 'gone the extra mile' to empower and encourage them to take pride of their output that contributes towards the Bank's strategic direction.
---
INDUSTRY RELATIONS
Bank Islam believes in providing employees with optimum resources to strengthen their position in the industry, therefore the Human Resources division has been proactive in maintaining a healthy relationship with various Unions that represent our workforce, including the Sarawak Bank Employees Union ("SBEU-Sarawak") and Sabah Bank Employee Union ("SBEU-Sabah"). This positive relationship provides the Bank's employees with adequate channels to report their grievances for legal action. The division takes pride in the fact that there have been no trade disputes filed against the Bank, mirroring our efforts in providing our people with an excellent working environment and adequate value propositions.
---
PEOPLE ENGAGEMENT FOR HEALTHY WORK-LIFE BALANCE
Bank Islam recognises the importance for its employees to attain a holistic lifestyle by finding the right balance between work, family and other interests as the Bank believes that having an engaged workforce is one of its competitive advantages. The Bank constantly improves its employees' engagement level through a variety of activities that enhance their sense of belonging towards achieving greater productivity. The formation of Kelab Kebajikan Bank Islam ("Bank Islam Welfare Club") plays a very important role in creating a working environment conducive to the wellbeing of Bank Islam's workforce. Established with the aim of increasing the level of engagement among the Bank's staff, the club has organised a number of events, with the aim to improve interaction and foster a closer relationship among the Bank's staff from all states of Malaysia. Central to this effort is the annual Sports Carnival where staff from all five regional offices and branches including the Bank's HQ compete among each other in various sporting activities, promoting healthy lifestyle and sportsmanship among the competitors and spectators alike. Year 2013 saw the event taking place at the UiTM campus in Dungun, Terengganu with 771 participants.
---
THE WAY FORWARD
Human Resources is an evolving field that has to continually meet the demands for robust growth within Malaysia's financial institutions. At Bank Islam, talents are developed concurrently with cutting-edge developments to ensure that demands of sophisticated customers who are technology-savvy and aware of their consumer rights are being met. The Human Resources division has formulated specific strategies and implemented key initiatives to address these current needs and empower the Bank's employees to deliver optimal results. Bank Islam grooms its employees – in physical appearance and attitude, for them to demonstrate their greater potential so as to provide the Bank with optimum opportunities to realise its vision of developing into 'A Global Leader in Islamic Banking'.
"Real service is driven by integrity and honesty"
---
Guided by targets in the Bank's Sustainable Growth Plan ("SGP"), a great leap forward was made in optimising customer service as well as service support for the Bank's business divisions. Greater convenience, faster turnaround time and a more conducive and supportive environment are some of the advancements we have delivered for the good of our customers and our staff.
---
IMPROVING THE CUSTOMER EXPERIENCE
Reaping the positive impact of results delivered through the Bank's key pillars of Service Transformation, the year sees Bank Islam advancing towards numerous operational initiatives which has led to an increase in operational efficiency and improved customer experiences.
---
EXPANDING NETWORK PRESENCE
We aim to get closer to our customers. In 2012, as part of the Bank's continuous exercise to expand its network and reach out to an ever-growing customer base, Bank Islam established five new branches in strategic locations, and rolled out 77 more self-service terminals ("SSTs"). Additional offsite SSTs were installed at universities, offices of statutory bodies, as well as state and federal government agencies to better serve their banking needs 24 hours a day, seven days a week.
As at end-2012, Bank Islam recorded a total of 1,190 SSTs, 10 banking service centres and 127 branches with at least six more branches planned for 2013.
A further enhancement to the Bank's regional presence was contributed by the deployment of relationship managers to every region we serve. Assigned to maintain rapport with local government, statutory bodies and valued clients, the relationship managers pave the way forward in helping the Bank understand regional needs better in order to sustain satisfactory service levels among our customers.
---
UPLIFTING BRAND IDENTITY
The Bank is migrating towards a more appealing high-end banking experience. To raise our service to top competitive levels, 19 branches have been remodelled to enhance branding as well as improve customer convenience and comfort. We are at our final leg of branch remodelling, having completed seven branches. Thirteen remaining branches are due for remodelling in 2013.
Other than a more appealing fresh ambiance, we are also moving towards implementing more technology driven services at our branches. In 2012 we introduced our interactive touch screen services at our first branch in a mall in Perda, Penang. This enables our customers to gain instant information on banking product queries as well as make appointments with our branch officers at their convenience.
Towards the same end, we continued to review the Bank's Internet Banking ("IB") platform and efforts are underway to implement the enhanced IB platform for a more consumer friendly IB experience.
---
ENHANCING CUSTOMER EXPERIENCE
We want to surpass expectations. Building a positive customer experience is an important catalyst in reaching Bank Islam's business goals as it creates customer loyalty as well as contributes to greater Return on Investment ("ROI").
In 2012, we embarked on several business process reengineering initiatives to streamline processes, heighten productivity, reduce cost and improve turnaround time.
At branch level, key goals were reached during the course of the year as Bank Islam made significant improvements in customer turnaround time with Straight Through Processing initiatives and putting in place new processes to create more convenience for our customers.
The Bank's account opening process was further improved with the direct integration of MyKad into our account opening system. This shortened account opening turnaround time and enabled more customers to be served within a comparative span of time. Measures were also put in place to increase speed of frontline service at every branch. As a result, most of our branches are now delivering standard average waiting time and serving time of five and ten minutes respectively.
In improving Contact Centre services, the Bank implemented an Automated Call back system that is targeted to reduce our drop call rate to less than 10%. This move also proactively enhanced the centre's capabilities in coping with an increase in inbound calls.
The Contact Centre's operating hours were also rescheduled to 7am to 12 midnight while all critical calls after midnight are diverted to our 24 hour Credit Card Centre. This strategic move not only reduced cost but increased the efficiency of our staff.
Centralisation of frontline processes to the back office also frees up our front liners to concentrate on optimising customer experience thus increasing overall productivity of the branch. At the same time, leveraging on the ease of information flow that automation provides, our back office benefits from improved branch day end reporting which ensures better data accuracy.
---
EMPOWERING OUR PEOPLE
We take pride in our service. Positive interaction between front liners and customers is integral to good customer service. The year saw a continued emphasis on staff training and efforts to improve productivity.
The Bank once again implemented a nationwide regional workshop and operations workshop to re-skill and re-train all front liners and Banking Service Managers from all regions. The impact of this training is evident from the sharp increase of the number of branches achieving satisfactory audit rating, and a significant reduction in operational loss.
The Bank extended its full-fledged 'mock branch' training to its existing staff which opened up a pool of ready supply of well-trained back-up staff for full counter service operations at all times.
As our market continues to expand and the Bank continues to pioneer change and lead the way forward for Islamic banking, our transformation initiatives will continue to elevate performance and sharpen Bank Islam's competitive edge.
The Bank's Hijrah to Excellence ("H2E") plan leads us forward in achieving our goals for 2013. We seek to improve our cost to income ratio, improve operational efficiency and inculcate a service excellence culture that supports business growth. Key initiatives in process improvements, customer relationship and cost management have been identified and will be the key drivers towards this end.
---
PROVIDING PREMIUM SUPPORT SERVICES
---
"We strive to serve you better always"
---
The Bank strives to provide operational efficiency through continuous process improvements and collaborative initiatives with the business units, fortified with a ready and open feedback channel to the customers.
In 2012, the Bank invested in enhancing its processes and building stronger relationships with both internal and external stakeholders. This helped achieve more cost savings, increased productivity and better deliverables.
Bank Islam has made continuous headway in improving productivity and service efficiency towards customer service excellence out of the re-engineered and centralised Credit Administration Department ("CAD"). This saw a significant growth of productivity and volume as compared to the same corresponding period in 2011.
The centralisation of identified back office functions at branches and Head Office as well as system automation and enhancement were core drivers in enhancing turnaround time, reducing cost and mitigating risks.
To ensure that the Bank's Feedback Channel & Distribution ("FCD") department continues to effectively monitor the enhancement of customer service standards, internal Mystery Calls were initiated in 2012. The study uncovered areas of improvement that could be made in the Bank's Phone Etiquette culture.
Since 2011, the Bank has increased its accessibility to our customers. In 2012 the Bank expanded this to include Facebook as a feedback channel. In realizing the importance of listening to the Voice of Customer, the Bank developed its own feedback management system. This platform ensured all queries raised by customers are attended to and properly tracked until closure.
Gearing up towards our H2E in 2013, the Bank will continue to design, develop and provide tools and ideas that will drive the delivery of an exceptional service model. This will enable our employees, stakeholders and customers to thrive along with the Bank, in accelerating growth.
In accordance with the requirements stipulated in Bank Negara Malaysia's Employee Screening Policy, any Financial Institutions who wish to hire a current or former employee of Bank Islam Malaysia Berhad may send in their request for related information and queries to hrscreening@bankislam.com.my
Please ensure that the following documents are appended with such requests:
A written consent from the individual concerned which authorises an inquiry into, and disclosure of, his/her employment records with Bank Islam Malaysia Berhad.
A duly completed Part A (i): Background of the Reference Template as per the Bank Negara Malaysia's format.
Bank Islam shall provide an employment reference for the individual concerned within 15 working days from the date of receipt of such request.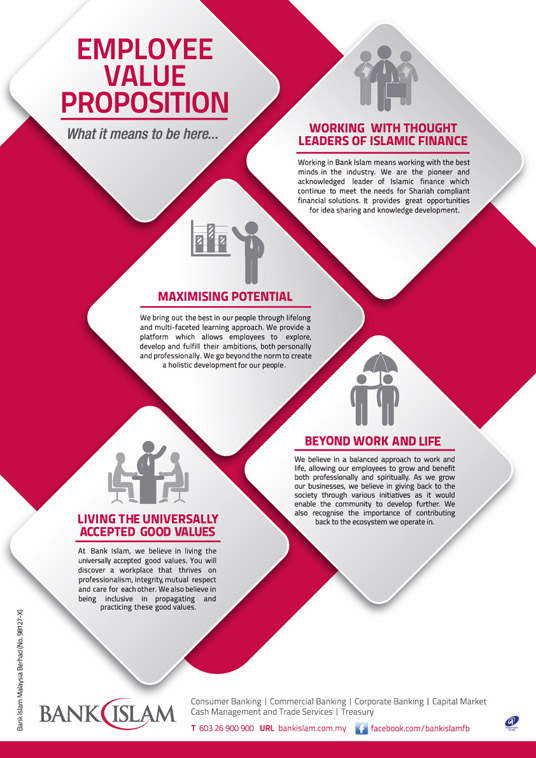 ---