SADAQA HOUSE BANK ISLAM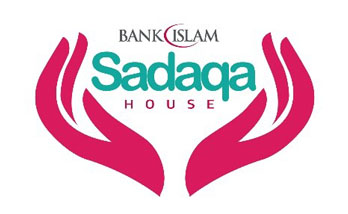 Sadaqa House is a charity crowdfunding platform where potential donors and charity projects meet at a common point facilitated by Bank Islam. Bank Islam, through Sadaqa House, provides value-added services to collect, manage and distribute donations from the public by channelling such funds towards identified charity projects that realise positive outcomes for underserved communities within selected focus sectors.
Aimed to deliver positive and sustainable impact, every aspect of the process is implemented with good governance and professional fund management, instilling greater trust and assurance that contributions to Sadaqa House are channelled towards impactful projects that benefit lives directly. Embodying a true Malaysian spirit, Sadaqa House practices an inclusive approach in terms of its policies.
Both Muslims and non-Muslims are welcomed and served by Sadaqa House as donors and beneficiaries. This approach comes from Bank Islam's belief that opportunities should be open to all in propagating a philanthropic culture and helping all Malaysians to manage their donations from end-to-end.
Fund Categories
Perpetual Fund
Where the principal of the fund is invested or placed in a Shariah-compliant financial instrument approved by the Sadaqa House & Zakat Committee. Any profits or returns from the investment will be channelled to specific projects for distribution.

Beginning December 2020, Sadaqa House will provide micro-financing to eligible 'underbanked' micro-entrepreneurs from this fund. The product is named BangKIT microfinance.

Direct Fund
Where the fund is directly disbursed and utilised for a specific charity project was chosen by donors.
General Fund
Where donors do not specify the charity project and the distribution of the fund is at the discretion of the Sadaqa House & Zakat Committee.
Tax deductible (for Malaysians)
1. Yayasan IJN (Ref LHDN.01/35/42/51/1796.4359)
2. Yayasan Sultanah Bahiyah (Ref LHDN. 01/35/42/51/179-6.4481)
Channel of Contribution:
Funds transfer
SADAQA HOUSE
140 140 101 88888
Bank Islam Malaysia Berhad
Bank Islam Credit Card-i
Through the redemption of Trupoints Rewards at https://trurewards.bankislam.com.my (Category Product: Welfare)
SnapNPay




i: Download the SnapNPay application at Play Store (Android) or App Store (iOS).
ii: Scan the QR code image.
iii: How to donate
a. Select recipient
b. Insert donation amount
c. Follow the steps displayed to complete the payment

Website Sadaqa House
https://www.sadaqahouse.com.my (Click Donate button)
Boost Application




Step 1 – Download the Boost application via Play Store (Android) or
App Store (iOS)
Step 2 – Click button 'Charity' and choose Sadaqa House
OR
Click 'Scan & Pay', Scan the QR code Sadaqa House and
Step 3 – Follow the steps displayed to complete the payment
For further information: