Malware
What is Malware?
---
Malware or malicious software is a program or file that is harmful to your computer, handphone or personal device. Malware can infect your electronic devices. Scammers will use it to steal sensitive data and exploit your devices without you knowing. Scammers typically use malware to steal money from your account and/or commit identity theft.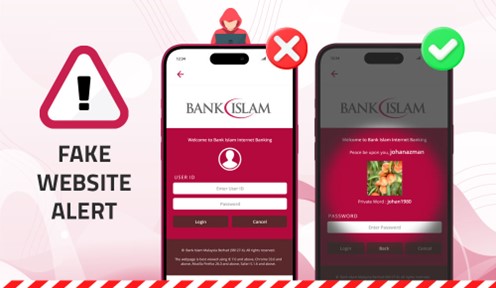 ---
How can Malware infect your device?
The malicious software is usually found in attached links, hidden in ads, spam emails, SMS, WhatsApp, etc.
The software or app will ask for your permission to be the default SMS app.
If you click/tap on 'Allow', it can steal your IAC or TAC and compromise your banking details via SMS.
---
What do I need to do if I clicked/tapped on 'Allow' and my banking details are compromised?
Uninstall the suspected malicious app.
Report any suspicious transaction to us at 03-26 900 900
Report to National Scam Response Center (NSRC) at 997
---
What will happen if you install a malicious app?
The malicious app will display a fake payment page for you to proceed with the payment.
This fraudulent payment page is designed to steal your credentials.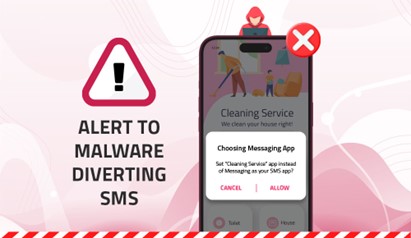 ---
Safety Tips
ALWAYS double check to ensure the payment page is genuine before you enter your banking login details.
DO NOT enter your login details on unknown websites or apps, as your details could be stolen by fraudsters.
DO NOT download any mobile apps except from Huawei AppGallery, PlayStore or AppStore.
Always keep your mobile operating system (OS) updated with the latest version.
---
How to spot a malware in your smartphone?
Unexplainable draining of battery
Pop-up dialogs with prompt to install other applications/unwanted ads.
Your antivirus program is not running (some malwares disable antivirus)
Overall performance of your smartphone is reduced
Apps crash unexpectedly
SMS doesn't get delivered/disrupted calls
---
How to protect yourself from malware?
Use anti-virus/anti-malware software. Install and maintain an updated, good antivirus program.
Be more selective. Think before you download any files or programs. Ask yourself if you can trust the source and whether the site is genuine.
Update your devices as recommended by trusted sources. Things are always changing, so it's important to keep your operating system (e.g. Windows), Internet browser, applications (e.g. Adobe Acrobat, Java) and firewalls up to date.
Be vigilant. NEVER open spam emails, SMS or WhatsApp message containing attachments, or click on links to suspicious websites.
Keep yourself updated. Regularly check security alerts and advisories to obtain the necessary information to protect your device and prevent you from becoming a victim of common security threats such as banking fraud and identity theft.
Make sure that your mobile device is updated with the latest operating system (OS).