About Menara Bank Islam
Ahmad Dawjee Dadabhoy Land Development Endowments
---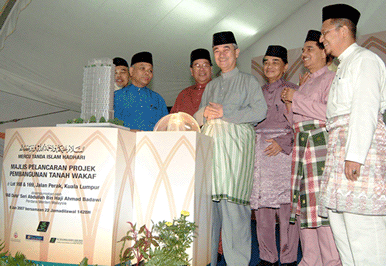 ---
Ahmad Dawjee's Waqf properties include 1.2-acre land which is situated at Jalan Perak, Kuala Lumpur. In the 80s, the place was famous for its night clubs.
With the completion of PETRONAS Twin Tower in 1998, the area experienced a rapid development to become one of the most important commercial centres in the city. Now it is known as the "Golden Triangle of Kuala Lumpur".
The religious authority of the Federal Territory (Majlis Agama Islam Wilayah Persekutuan or MAIWP), as the sole trustee holder of Waqf properties in Kuala Lumpur, has been instrumental in developing the lands) in tandem with the commercial growth of Kuala Lumpur city centre.
---
Smart Partnership
---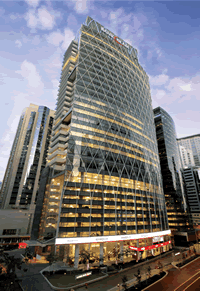 ---
Menara Bank Islam was born out of Lembaga Tabung Haji's (TH) effort in providing 100% financing for its construction. This investment not only provides long-term returns for TH depositors but also supports its mission to be the pillar of economy for the Muslim community.
The project is completed by Bank Islam Malaysia Berhad's (Bank Islam) commitment to become the anchor tenant for the building. Bank Islam has given its agreement to have the building as its headquarter, in line with its status as the pioneer of Islamic banking in Malaysia.
A smart partnership has been developed between various Muslim organisations which include MAIWP, TH Properties Group of Companies, Lembaga Tabung Haji and Bank Islam to ensure that this Waqf land is of benefit to the Muslim community in the surrounding area.
May Allah S.W.T. gives His Blessing to the departed Ahmad Dawjee Dadabhoy and always be in His loving Hand. Amin
---
Menara Bank Islam
---

---
Officially launched on 19 October 2011, Menara Bank Islam stands 34-storey high and costs RM151 million to complete. The launch ceremony was officiated by Yang di-Pertuan Agong Tunku Mizan Zainal Abidin.
Menara Bank Islam is a towering monument to the achievement of today's Muslim community. It showcases the capability of the nation's various Muslim organisations in developing the Waqf land right in the midst of the vibrant "Golden Triangle" area of Kuala Lumpur. The construction of Menara Bank Islam is a milestone in the industry as it is the first commercially-developed Waqf land project.
---