Our History
"The inception of Bank Islam in Malaysia is not a manifestation of the Muslim people's pride and haughtiness, or a symbolic attempt to portray Islam in this country. The formation of Bank Islam is an effort to demonstrate that Islamic assimilation in our country's economy shall not evoke any economic catrastrophe. What is needed here is neither a 'gesture' nor 'symbol' but the trusted expertise to establish and manage, which will determine that an Islamic banking system can play its role successfully in today's modern economy."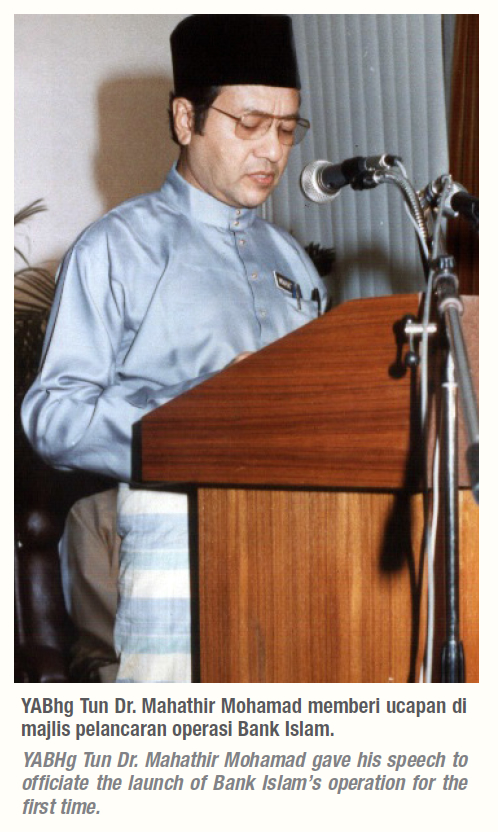 YAB Tun Dr. Mahathir Mohamad, commerating the official launch of Bank Islam's operation in 1 July 1983 / 20 Ramadan 1403H (Friday).
---
The establishment of Bank Islam can be traced even way back before World War II where Muslims in the country were already looking for an alternative financial system that would comply with the Shariah (Islamic jurisprudence) requirements. It was not until 1969 however that the Pilgrims Management and Fund Board (Lembaga Urusan dan Tabung Haji or "Tabung Haji") was established as one of the first Islamic financial institutions, primarily to encourage savings and investments among the Muslims and help depositors perform Hajj.
At the international level, the call for the establishment of an Islamic banking system had been gaining in momentum but it was only in 1975 that the first Islamic bank was established in Dubai. The bank was formed after 15 years of extensive research and joint effort by professional Islamic economists, financiers and officers from various world Islamic organisations.
The inception of Bank Islam in 1983 was the culmination of intense determination, inspired by the Bumiputera Economic Congress in 1980, followed by a seminar on the Concept of Development in Islam in 1981, and the tireless efforts of Tabung Haji, PERKIM (a non-governmental organisation committed to looking after the welfare of Muslims across the country) and the National Steering Committee for Islamic Bank ("National Steering Committee").
Starting with 30 pioneering staff, Bank Islam's first year of operation was conducted by its temporary headquarter at the first floor of Kompleks Jemaah Haji at Subang, Selangor. By the end of its first financial year, Bank Islam has four (4) operating branches at Kuala Lumpur, Kuala Terengganu, Kota Bharu and Alor Setar, with 272 employees.
Via the innovative application of Waqf land development, today, Bank Islam's headquarter is the pristine Menara Bank Islam, located in the midst of the 'Golden Triangle' of Kuala Lumpur. As at end of 2022, Bank Islam has more than 135 branches nationwide with a workforce of more than 4,500.
---