Beware of Phishing Scams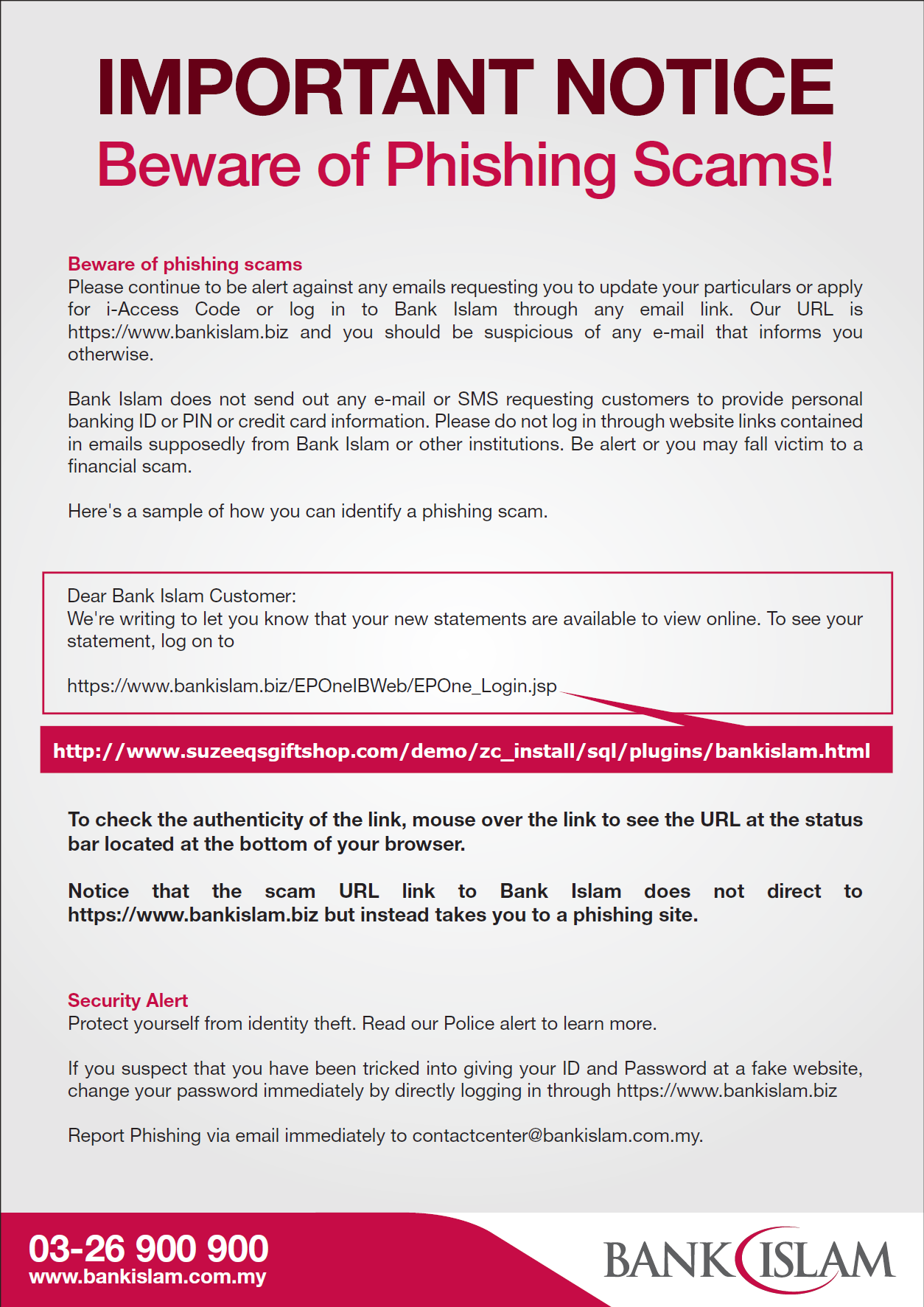 ---
Beware of Phone Scams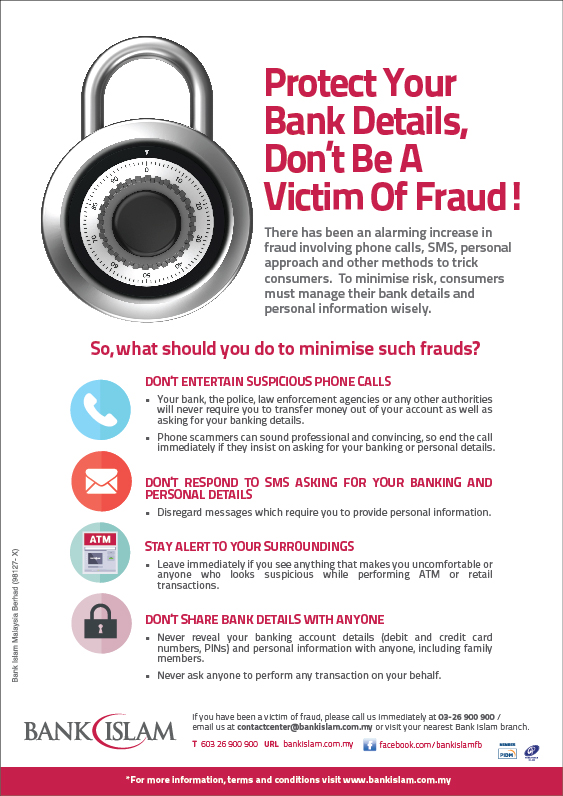 ---
There has been an increase in scams targeting Bank Islam customers via automated voice messages or phone calls informing customers of an outstanding amount that do not exist. The latest modus operandi of the scam involves callers impersonating a bank, Bank Negara, police or law enforcement agency officers.
They may even inform you that you are involved in criminal activities and instruct you to disclose your banking details such as your ATM, debit card, credit card PIN (Personal Identification Number) or even ask you to transfer funds to a dedicated account number in order to avoid being prosecuted by the law.
To avoid any unauthorised access to your banking accounts, please be mindful to never reveal such information to unknown callers. You are strongly advised to stay vigilant and take the necessary precaution to protect yourself. If you have inadvertently provided your details in the past, please call us immediately at 603-2690 0900, or email us at contactcenter@bankislam.com.my. Alternatively, you may also approach our nearest branch for further assistance.
---
How to protect yourself
Be wary of unsolicited callers claiming to be bank or police officers. Bank Islam, Bank Negara Malaysia (BNM) and Polis Diraja Malaysia (PDRM) will never require your bank details.
Never reveal your personal and bank account details such as ATM/debit/credit cards numbers, PINs, IAC (Internet Authorization Code) to anyone.
Scammers may use Caller ID spoofing technology to mask their actual phone numbers and display a different number.
Call us immediately if you detect any suspicious transactions.
---
Security Alert
Do not be a VICTIM of fraud. Protect yourself. Report to us immediately for any suspicious activity at 03-26 900 900. Here is a sample on how you can identify a fraud website.
---
Sample Fraud Site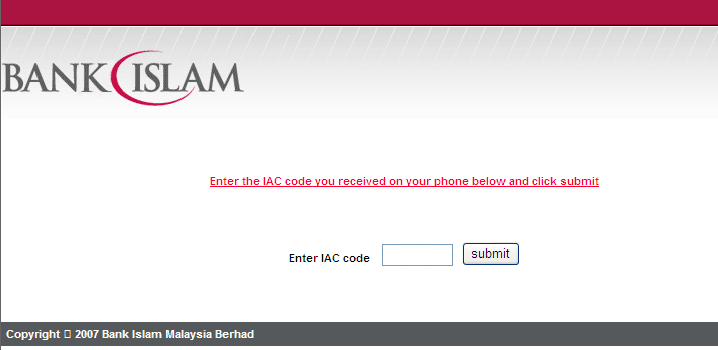 ---
Sample Fraud Mail
Dear Customer, You are requested to update your Bank Islam account Information to continue with your online banking. Click Here to begin http://www.bankislam.com.my Thank you for using Bank Islam Important Notice: Ensure you Request an IAC. i-Access Code (IAC) is required to complete this update. Failure to provide a IAC will lead to account suspension. Bank Islam Malaysia ________________________________ Please do not reply to this e-mail. Mail sent to this address cannot be answered.

---
Internet Banking Anti Phishing
Private Image and Private Word
The Private Word and Image is an additional security measure put in place to assist Bank Islam Internet Banking user to identify valid Bank Islam Internet Banking site.
With the new security enhancement, our existing login page will be split into two pages. The first login page is for user to key-in User ID and followed by second login page for user to enter the Password. User Private Word and Image will be presented at second login page.
Internet Banking user has to maintain the Private Word and Image before user is directed to Bank Islam Internet Banking landing page and continue with the internet banking transactions.
---
How does it assist our user?
Users to verify that they are accessing valid Bank Islam Internet Banking site as follows:
1. A login page without password field

---
2. 2nd login page to key-in password and to verify Private Word and Image maintained earlier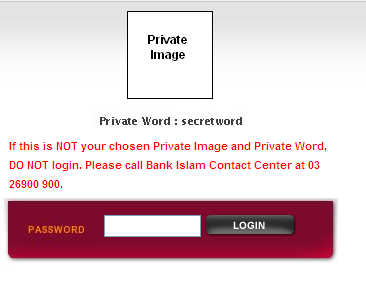 ---
This is an authentication page to verify that user is accessing to valid Bank Islam Internet Banking. Fake website will display incorrect Private Word and Image to user.
Should the selected Private Word and Image displayed is incorrect or not available, please do not proceed and immediately notify us at 03-26 900 900.
---
i-Access Code (IAC)
The i-Access Code (IAC) authentication code is designed as an additional security feature when you performed specific online banking transactions. To receive the unique 6-digit IAC Code and the unique 4-alphabet Secure Code via SMS, register your mobile number at any nearest branches. IAC is required when you perform the online banking transactions below:
Self Reset Password
E-Statement Maintenance
Cheque Book Request
Funds Transfer Within Bank Islam to Third Party Account
Funds Transfer to Other Banks via Instant Transfer (IBG)
Funds Transfer to Other Banks via IBFT
Favourite Account Maintenance Within Bank Islam to Third Party Account
Favourite Account Maintenance to Other Banks via IBG
Favourite Account Maintenance to Other Banks via Instant Transfer (IBFT)
Payments to Open Bill
JomPay
Auto Debit
Bill Presentment
Favourite Bill Payment Maintenance
Favourite JomPAY Maintenance
E-Sadaqah / Wakaf
Prepaid Reload
Change Address
Change Password
Change Secret Questions and Answers
Private Word and Image Maintenance
Transaction Limit Maintenance
E-commerce payment via FPX
E-commerce payment via POS Online
---
Useful Tips for Internet Banking Users
Don't act upon suspicious email
Transaction is using 128 bit encryption method
To confirm you are accessing secured site by checking on SSL Secured (128 bit) icon at right taskbar
Always ensure to use correct URL: http://www.bankislam.com.my
Always check on the certificate to ensure you are accessing exist website
No downloaded program is needed to access
Automatic timeout/log-off if idle after certain period
Always remember your id & password
Don't reveal your id & password to anyone
Can be access across any platform/browser best viewed with IE 8.0 or higher
Advised to clear cache after each session
If Internet Banking problem, call 603-2690 0900 immediately